Hospice and Palliative Care –
The Patient & Family Experience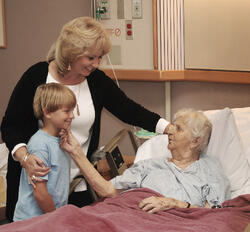 Hospice and palliative care are focused on offering patients and their families the physical, spiritual and psychosocial support they need in the environment that is most comfortable to them. Old Colony Hospice is committed to creating a patient and family experience that allows everyone involved to feel cared for, comfortable and supported during what can be a challenging time.
From the moment you contact Old Colony Hospice, you will experience a uniquely personal approach that focuses on caring for patients and families in the specific way that they desire. We take a team approach to delivering services but everyone aspires to one vision and mission – to give patients and their loved ones a dignified experience that respects their wishes at every stage.
Learn more about our approach and our services. If you have been recently diagnosed, see what to do next or request a free informational visit/assessment from a hospice professional.