Hospice Care for Patients and Families
Hospice care empowers patients to focus on living their remaining days among family and friends and maintaining the highest quality of life possible. The emphasis on caring for the family's needs, as well as the patient's needs, makes hospice care unique.
Since 1979, Old Colony Hospice has been helping patients and families through our comprehensive approach to exceptional hospice care. Let us help you, too.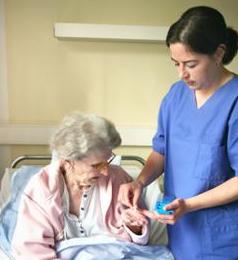 Learn more about the family hospice and palliative care we provide as part of our patient and family experience.
Review our commonly asked questions for more details on the hospice care process.
Find out more about the services Old Colony Hospice offers, if you or a loved one has recently received a diagnosis that may require hospice care.

Take a closer look at some of our services below
And of course we welcome you to contact us directly via phone or email to arrange to speak with someone about your specific situation. In addition you can request a free informational visit/assessment visit from a hospice professional.