In light of Covid-19 and firm social distancing guidelines, we have made the difficult decision to cancel the in-person portion of our annual Golf Tournament XVIII that was scheduled to take place on September 21, 2020 at Thorny Lea Golf Club in Brockton, Ma.
We are still proceeding with our "Golf Balls from Above" portion of the event. The golf ball drop is one of the most exciting activities we do each year at our golf tournament - 1,500 numbered golf balls are dropped from a helicopter onto the fairway at Thorny Lea Golf Club for a chance at winning three great cash prizes:
1st Prize: $1,500
2nd Prize: $1,000
3rd Prize: $500
This drop will be live-streamed on Monday, September 21 at 8:30am - details to follow.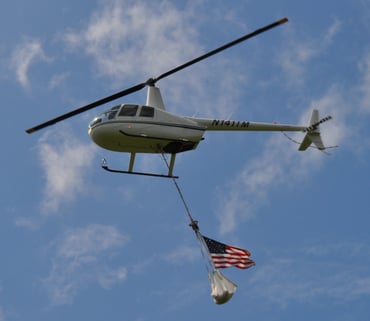 Sponsorship Opportunities
We are asking our loyal sponsors to renew your sponsorship for this year's golf ball drop. In doing so, your commitment will be shared with those who have been supporting this event for so many years. T-Signs will be printed and placed at the ball drop sight and will be seen by all during the live stream. In addition, each sponsor will get individual and group social media mentions and will be listed on our website.
Time is precious, we all wish we had more of it. So every moment we can help a patient and their family is a gift. With your support, we can provide access to compassionate care in more than 55 local communities, 24 hours a day, 7 days a week, and 365 days per year.
Your support goes directly to patient care, providing programs like Music Therapy for Patients with Dementia, visits from our Pet Therapy Dogs to our terminally ill patients, grief counseling for children and adults learning how to cope with the magnitude of their loss, support for our 'WE HONOR VETERANS-No Veteran Dies Alone Program,' and so much more.
Thank you for joining us as we support our patients and their caretakers in our mission to provide the best compassionate care possible.
Please contact Heidi Garcia, Director of Philanthropy with any questions - HGarcia@oldcolonyhospice.com - Mobile: 508-570-6403
To Register click here!

For Sponsorship Information click here!