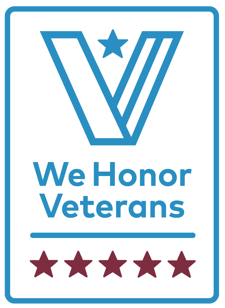 West Bridgewater, MA June 28, 2022 - Old Colony Hospice has been recognized as a 'We Honor Veterans' Level 5 Partner.
We Honor Veterans is a program of the National Hospice and Palliative Care Organization (NHPCO) in collaboration with the Department of Veterans Affairs (VA) that invites hospices to join a pioneering program by recognizing the unique needs of America's Veterans and their families and how to accompany and guide them toward a more peaceful ending.
We Honor Veterans provides tiered recognition to organizations, known as Partners, that demonstrate a systemic commitment to improving care for Veterans both within our organization and in the communities we serve.
Old Colony Hospice's President, Toni L. Eaton, credits the compassionate, highly-skilled staff and volunteers of Old Colony Hospice for a standard of care that has led to this amazing recognition. Mrs. Eaton stated, "Our team is professional, caring, compassionate, and highly experienced in helping Veterans and their families. They put the patient and family first and work collaboratively to provide quality care with dignity and respect for every patient."
About Old Colony Hospice
Old Colony Hospice has been providing compassionate hospice care since 1979 and is proud to serve over 60 Massachusetts cities and towns in Southeastern MA. We are a free-standing, non-profit, Medicare-certified, accredited healthcare organization that provides services through a core staff of registered nurses, social workers, counselors, volunteers, hospice aides, and consultants. From the moment you contact Old Colony Hospice, you will experience a uniquely personal approach that focuses on caring for patients and families in a specialized way. We take a team approach to delivering care to patients and their loved ones, in a dignified experience that respects their wishes at every stage.