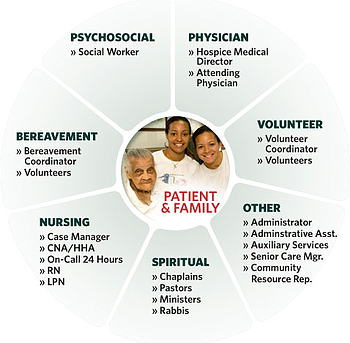 Source: Regina Brett, The Plain Dealer
As a registered nurse for 38 years, Laurel Hopwood has seen people struggle to keep living.
She's seen them hooked up to monitors, tubes and IVs. She's seen them cheered on by doctors who refused to give up, who kept ordering tests and treatments no matter how invasive or painful the
procedures or side effects. She's seen people cling to hope when hope was no longer possible. She knows hope isn't always what people need. Sometimes they need the peace that comes from letting go.
So when Lauren's own father grew so short of breath that he could hardly walk, she had to respond both as a daughter and as a nurse. She had to navigate that delicate place where medicine and nature can collide or conspire to work hand in hand. Her dad, Art, had already lost some of his hearing and most of his eyesight. He was 89 and wanted to reach 90. He was like a little kid waiting for that big birthday.
When she took him to see the pulmonary specialist in November, her dad waited in another room. The doctor told Lauren her dad had pulmonary hypertension. "What's the prognosis?" Lauren asked. "Not good," the doctor said. "It's time to put your dad in hospice." Lauren appreciated his honesty. Lauren had to break the news to her dad.
On the way home she asked him how he was doing. "OK," he said. "At least I'm not in hospice."
She cringed. Once home, she told him. "Nothing can be done. All we can do is make you comfortable." As her dad's medical power of attorney, she advised him not to undergo procedures that would likely result in a painful, lingering end in an intensive care unit. Her dad agreed. So did the doctor.
Lauren shared her story with me because she wants to take the fear out of hospice. Her dad had lived a compassionate life. She wanted him to have a compassionate death. His doctor at the Cleveland Clinic, and the nurses from the VNA made that possible.
Her dad had three long months to say goodbye. To talk about the good times and forgive any bad times. To wake with the love of his life, Lenore, who he married 66 years ago, and fall asleep with her. To laugh with family and friends. "We got to be together and talk, to share 'I love you's every day," Lauren said. "When people hear the word hospice, they think it's a death sentence. It isn't. The extra time is a chance to watch a ballgame with your children, play with your pets, reflect on your life and embrace it fully as you release your grip on it.
It's a chance to write your own memorial. Her dad wrote about growing up in Cleveland and about serving in the Navy where he helped perfect an early warning radar system to detect enemy planes. He wrote about his life as an engineer and his wife Norrie. They married in 1946 and besides Lauren had three other children, Douglas, Bonnie and Nancy.
It's a chance to relive the best moments. He told Lauren his best memories of her were, "Every night when I tucked you in, you hugged me and said, 'Oh, how I love you daddy.'"
She loved her dad all the way to the end. He didn't get to turn 90. Arthur Bletcher died on Jan. 24, just 9 days short of his big birthday. Lauren held his hand as he took his last breath. Her mom held the other. He died at home surrounded by love.
It was the best gift they could give each other, the peace of letting go.
For more information, please call us at: 781-341-4145
or
Visit us online at: http://www.oldcolonyhospice.org/hospice-care