Center for Patient & Family Support - Volunteer Program
" My mother was such a greeart person and at the end of her days she was treated by all of you, who did not know her, with such love, dignity and respect. I was so impressed with all you do that I decided to become a hospice volunteer. Thank you."
Maureen, Daughter of Patient
Introducing the Center for Patient and Family Support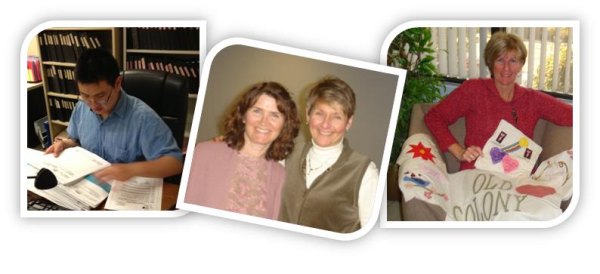 We are proud to introduce the new Old Colony Hospice Center for Patient and Family Support is up and running! All volunteer and bereavement programs are part of this new model of service delivery. Volunteers are an integral part of our inter-disciplinary team and we are working hard to ensure that your time is spent in a way that best utilizes your talents and meets your expectations.
Old Colony Hospice appreciates our volunteers and the valuable time and talent that is donated each and every day to help patients and their families. Volunteers are the heart of our organization.
Volunteers Needed
Make a difference today…
Volunteers in hospice find it personally gratifying, intellectually stimulating, and emotionally meaningful to assist those in need at a critical point in their lives.
A PLACE FOR YOU…

Volunteers are a valuable part of the care Old Colony Hospice provides. We have a place for you that will meet your schedule and geographic preferences. There are a variety of ways that you can give your time, talents, and experience. Some of the ways include:
- Support patients and families with home visits
- Provide administrative support in our office
- Assist with our signature special events or fundraising
- Become a friendly caller to bereaved families
TRAINING…
All Old Colony Hospice volunteers participate in a training program, including an orientation and on the job training. Patient care volunteers receive specialized training to develop the skills they will need to work with patients and their families.
TIME…
Each volunteer is free to choose how much time he or she would like to give. We do ask that you make a one year commitment to volunteering at Old Colony Hospice.
BENEFITS OF VOLUNTEERING…
Volunteers often find that their greatest satisfaction comes from contributing to the wellbeing of others. They also have the opportunity to apply their talents differently from their usual work. For some, volunteering may even lead to a new career. Their gifts of time, energy, and skills fill a unique roll that only they can provide.
FINDING YOUR WAY TO VOLUNTEER AT OCH…
To explore volunteer opportunities at Old Colony Hospice, call or email Lorraine Shamon at the Center for Patient & Family Support at 781-341-4145 - LShamon@oldcolonyhospice.com or click here to fill out a volunteer application!