Spiritual Support
"We are not human beings having a spiritual experience.
We are spiritual beings having a human experience."
- Teilhard de Chardin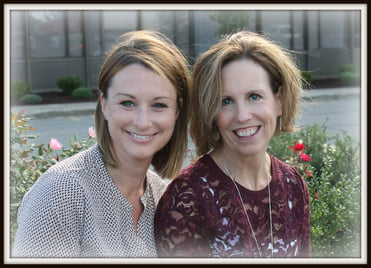 From left: Amanda Deady, M.A. CHP., Associate Spiritual Counselor
Cynthia Robbins, M.A., M. Div., Spiritual Care Coordiniator
Spiritual Care at Old Colony Hospice is nondenominational support with a primary focus of providing healing presence and comfort. Our spiritual care is patient focused and patient driven – whatever the patient finds spiritually meaningful is our starting point. It might be a religious practice like prayer or reading of scripture. It might be simply holding a hand and providing a feeling of connection. There is no religious agenda but there is religious support if that is what is meaningful to the patient.

Our hope is to provide for the possibility of peace within the souls of our patients and also as a legacy for the loved ones they leave behind.
Spiritual support is designed to help individuals who are striving for greater clarity, better understanding and increased comfort in their lives – especially in those times in our lives when we become more aware of our spiritual needs.
Spirituality often involves the search for meaning and purpose in our lives. This inner work can often be very difficult. We can find ourselves struggling with challenging questions and painful situations.
One of those times is whenever we are dealing with death and dying, grief and loss. This is when hospice spiritual care can be of great assistance. Regardless of how you define your own spirituality, a specially trained hospice Spiritual Counselor will provide the kind of support you request, while also respecting your personal beliefs and traditions and those of your family.
The Spiritual Counselor can offer assistance through empathic listening, readings from sacred texts, life review, prayer and guided imagery. Spiritual support is scheduled as requested by the patient and family, and will always be provided in a caring and compassionate manner.
The Spiritual Counselor, if requested, will coordinate spiritual support (e.g., sacramental ministry, pastoral visitation) for the patient and family with their own local religious community.
The Spiritual Counselor will officiate, if requested, at memorial/funeral services, as scheduling permits. These services will be planned with the family in order to best honor the patient, as well as provide comfort and meaning for family and friends.
Old Colony Hospice also offers grief support and bereavement support services.