The Memory Quilt for Individuals and Families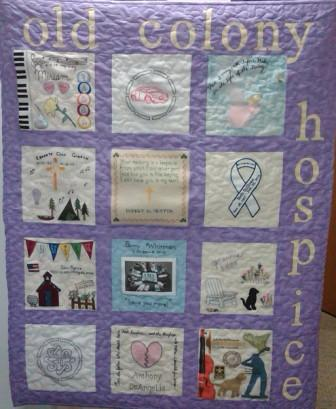 Old Colony Hospice is pleased to offer families and individuals the opportunity to remember their loved one through our new memorial quilt, "The Memory Quilt."
The Memory Quilt will be displayed in our office, at our special events and during public events in our community. It will also be showcased in banks throughout our service region.
If you would like to create a square for your loved one(s), please follow the directions below.
Use a 10 inch square of unbleached muslin, off-white cross stitch or comparable fabric.
Leave a ½ inch border around the square without design on pattern so that the panel can be attached to others. This means your finished designed area should be 9 ½ inches by 9 ½ inches.
The design of your panel could include a religious symbol, depiction of a favorite hobby, toy or occupation. A poem or quote would be appropriate. Please do not send photographs.
To get the best results, the favored methods for creating a quilt panel are appliqué, cross-stitch or embroidery.
When you have completed your quilt piece, please complete the release form including signature and send it with your square to:
Toni L Eaton, RN
Old Colony Hospice
One Credit Union Way
Randolph, MA 02368
1-781-341-4145 or 1-800-370-1322
Memory Quilt Photos