Hospice - For Patients & Their Families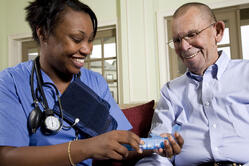 When you want the best for your loved one...you have a CHOICE!
We recognize and honor that all patients and families have the right to choose their hospice care provider. We are committed to providing quality care, dignity and compassion to our patients and families. We hope you will consider Old Colony Hospice when choosing your hospice care provider.
Hospice is an experience that is shared not only by the patient but by his or her family, friends, caregivers and medical team. With everyone working toward the same ultimate goal – to enable the patient to live out his or her life with respect and dignity, in an environment where they are most comfortable – there is a lot to consider.
Old Colony Hospice has the expertise, experience and commitment to help patients and families to coordinate all aspects of hospice. We have been providing the highest quality comfort and compassionate care to patients and their loved ones for over 35 years.
The Washington Post recently launched the Consumer Guide to Hospice. Learn more here and see how Old Colony Hospice compares to other hospices in MA.
Read some testimonials about the Old Colony Hospice experience from patients and families